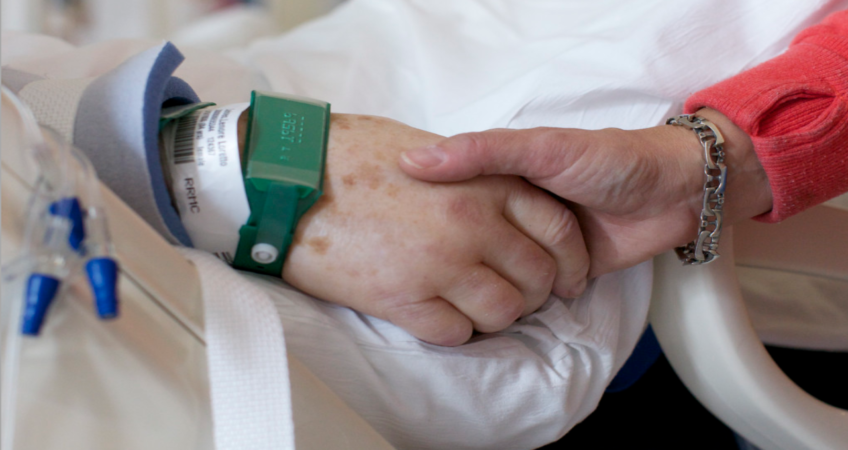 Music In ICU: How It Brought My Mother Comfort and Connection
Music has played many roles in my life, but over the last two weeks it has come full circle, back to the very person that gave me life, song, and an unquenchable desire to serve.
The Call
It was the call that shifted everything. "Tricia, Mom has a 50% chance of living. I can't do this alone. You need to get on the next flight to Medford." 
As I filled my small suitcase, my attention traveled 1200 miles away to my sweet Mom. Between the tees and jeans, I laid a pair of black dress pants, heels, and a blouse.  At a 50/50 chance, I knew I should be prepared for either outcome… my heart packed for a miracle. My mind braced for a funeral.
Mom in ICU
I spent two weeks in Medford, the first at the hospital with my mother in ICU…
A voluntary aortic heart valve surgery turned into a 7-week, day-to-day battle. Mom's body did not like the stress of the operation and her organs were struggling to find equilibrium.  Each week felt like two steps forward one step back – and in this final tread to stabilize her, the doctors needed technical assistance to support Mom's breathing The most effective option meant an invasive ventilation tube down her throat. And for her own safety, Mom's hands were gently restrained, as the damage from accidently pulling out the breathing tube would have been injurious.
The goal was to help Mom get strong enough that she could breath on her own.  Around the clock, the nurses and doctors gave her all the support they could, and thankfully things were looking better each day. But as you can imagine, the stress of having the breathing tube in, with no buffer from pain through medications and sedatives – as they inhibit breathing function – was very stressful for Mom.
My Job
My job, and that of my son and niece were to comfort…distract Mom as much as possible from her afflictive situation.
We read, prayed, told stories, played music and sang to her. She could easily nod yes or no to our questions, so Mom would pick which distraction she preferred. Two things brought her the most comfort… praying the Rosary and some form of music.
Healing Music
That week, Laurie Hunter, my dear friend and very talented musician, visited Mom's room and brought her harp. The experience was like no other and the positive effects on Mom's comfort level were notable.
Seated in a chair at the foot of her bed, her small harp before her, Laurie raised her hands and gracefully stroked the strings. The open chords of the harp filled the room, lifting the sterile space to an ethereal plane.
Laurie worked with the harsh environment. Rather than clash against the sounding monitors, she would mimic the pitches and work them into her own impromptu composition, causing the once obnoxious electric tones to now be part of a rich sound cloud.
She strategically created soothing and lyrical melodies that matched the tempo of Mom's heartbeat. As she plucked each string, we watched the monitors; Mom's heart rate slowing and blood pressure lowering…
Mom was relaxing… and feeling calmer than she had all day – a priceless gift during this intense time.
Research Support Music In ICU
Mom's reaction was not unexpected. The hospital has long used a staff harpist to travel from room to room to share his musical antidote to critical care patients. And according to US. News and World Report, "Music can help soothe the fear and anxiety of critically ill patients who have been placed on ventilators, reducing both their stress and their need for sedatives…"
Additional studies show that regardless of our condition, listening to music can help lower blood pressure and slow heart rate, decreasing the levels of stress hormones.
A Love Song From Heaven
It was a few days later that my sweet Mom received more music therapy, but this time from what I feel was an angelic source…
Growing up, my Dad played one piano piece, Beethoven's Moonlight Sonata. Every evening, as others might sip their scotch, Dad instead would settle himself on the piano bench, stretch out his hands and drink in the low rolling bass notes and haunting minor chords. Note by note he filled our home with the imaginary ebb and flow of Lake Luncerne.  Wednesday morning, Dad wanted to play his signature piece once more…
It was still dark outside and I had been at her bedside for hours trying what I could to support Mom.  She was understandably irritated and distressed with the breathing tube, finally I asked her if she wanted to listen to some music. She nodded yes. I choose the Pandora station "Opera to Relax," and seconds later out flowed not an opera song, but… Beethoven's Moonlight Sonata.
The look in Mom's eyes softened and she immediately relaxed. Her grip on my hand tightened, and again the monitors indicated her ease with lowered heart rate and blood pressure.
I closed my eyes and let the tears fall.
I choose to believe that in that moment my sweet father, Mom's husband of 52 years, nine years in heaven, was sending his love song to her; a heart-to-heart music connection traveling through the ether.
My Song of Farewell
Another two steps forward occurred when Mom was strong enough to breathe on her own and the tube was extracted. We were overjoyed as we went to sleep that night confident that Mom had turned the corner to recovery.  But there was another plan in the making, and in the next 12 hours, things turned once again, and this time it was clear that my sweet and beautiful Mother was making the peaceful transition to death. 
Surrounded by my sister, niece, and son… I sang Mom into heaven with a hymn very familiar to her from her years as a church organist…Song of Farewell.
      "Come to her aid oh saints of God, Come meet her angels of the Lord…."
Purposefully Using Music to Comfort You and Others
 – How can you use music to comfort others during times of distress?
– How can you use music to comfort yourself?
– What music conjures memories of a special time or feeling?
– What would be on your playlist for relaxing music? Inspiring music? Happy music? Spiritual music?
– How could you use your musical talents to bring joy or peace to others?
Mourning Music
Week two was spent planning Mom's memorial service. To my despair, I had to wear those black pants, heels and blouse. But through the anger, confusion, sleeplessness, resentment and deep sadness… there was music…. music to cry to, music to scream with, music to forget, music to remember, and during her funeral; music to honor Mom's amazing life.
Honoring Mom's Legacy – Our Job
As Mom would say, "Go for it!" Make music… in some form….song… dance…. piano… guitar…. whistling… part of your day, and take time to infuse your life and the lives of others with its healing properties.
Always Rejoice In Your Voice™!
xoxoxo, Tricia
P.S. To learn more about my Mom… https://rejoiceinyourvoice.com/who-inspired-your-passion-an-interview-with-my-drama-mama/