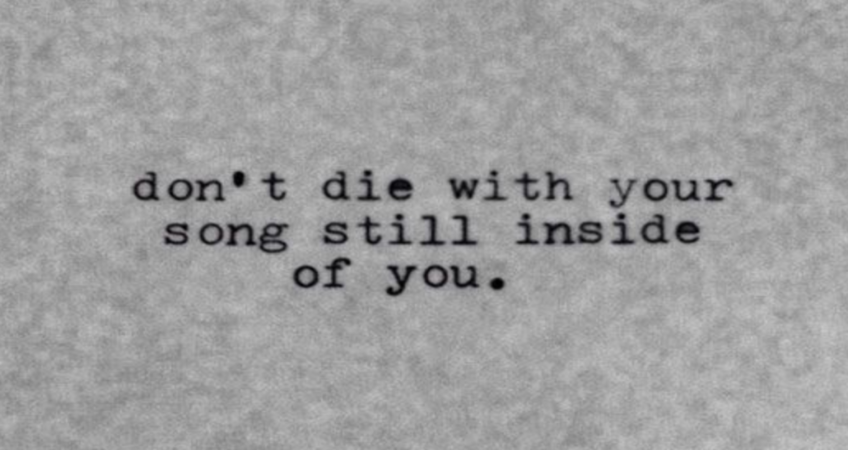 Are You Living Intimately With A Stranger? I was…
Are You Living Intimately With A Stranger?
I was…
"I only sing in the shower."
"Oh, you don't want to hear me sing."
Not a week goes by that I don't hear someone tell me…
"I am not talented like that." or, "My choir teacher told me to mouth the words… you know… peas and carrots… I have a terrible voice."
These replies sadden me… but for a deeper reason than you may think. It resonates with me, for I understand the mindset.
The beliefs that most of us have about our voices are deeply planted, affirmed, and societally accepted. Despite my world-class training and lengthy performance resume…
I have felt intense shame surrounding my voice.  
It is no accident that my business is called Rejoice In Your Voice™. This name was given to me during a desperate search for direction, a prayerful plea of "What do I do now?" Apply for that bank teller job? Work as a photographer? What about marketing?
The answer flickered like a tiny candle in a dark cavern. "No, Tricia, rejoice in your voice!"
"What? Are you kidding?"
You see, this was my greatest fear, my pain-point, my deepest vulnerability.
For years, I had abandoned my voice. Set it aside… diverted, distracted, and dodged my love for singing. It was painful for me to live with a desire and an instrument that that was the source of so much frustration and confusion. The leading roles kept coming, but there was an insecurity regarding my voice and a battle between heart and ego.  
From my perspective, I had tried everything; thousands of dollars spent, years of commitment, world-wide opportunity, and lucky breaks… that weren't so lucky. I felt like I had given it my all, but after the stage door slammed, the truth remained that I was not where I wanted to be. I didn't know where I was going.
I still didn't truly know my voice.
The inner bickering was incessant…"My voice doesn't sound how I want. It reacts unpredictably under pressure. It is fragile and weak and at the same time huge and loud. Why can't I be like so-n-so… Why was I given the desire, but faint realization?"
"If it was meant to be… why is it so hard?"
I began to be afraid to practice, to learn new music, and eventually, I even loathed the sound of my own voice. I stopped going to the piano, to the notes, to my songs.
I was living intimately with a stranger. 
How did this happen?
Along the way, I had come up with a set of beliefs about my voice that were extrinsically motivated, justified by my intellect and rooted in perfectionism.
This threesome cleverly wrapped up all my innocence, hope, and creativity, and tied a suffocating bow labeled "Struggling Artist." I was so immersed in my "failures and disappointments" that I stopped creating all together.
I was a mom. I was a volunteer.
I was a fixer of everybody and everything but me.
For me, a life-changing shift happened when I felt things couldn't get any worse. I was hopeless and had come to a dead-end… but now I see it was a fork in the road. Thankfully, I was given a choice. 
It was there that I asked and listened, mustered enough courage, took unknowing steps toward that flickering candle, and bravely and unapologetically acknowledged my deep love for singing.
I secretly whispered my deepest love,  "I love how singing feels."  
Not how it thinks, not how it acts.
Not what others say about it.
…but how it feels to make sound; that deep vibration of music in my body, the poetry of the words on my lips, the imagination of the character, the truth of the story, the sharing, the tears, the discovery, the freedom, the process, the joy.
It was not a degree or certificate, pedagogy book, or a high soft palate that reignited my passion, but rather a surrender to what I deeply loved, loving it with all it faults… I learned to "make a joyful noise" and celebrate it.  
And I ditched comparison entirely.
Yes, my voice is at times unpredictable, fearful, or loud. And yes, at times my voice is powerful, connected, rich, and beautiful.
Like a mother's child, I love every bit of my voice, because it is mine.
I untied my own vicious knot and have gone from victim to victor. From starving artist to thriving artist. From shameful to thankful.
I feel deeply connected to my voice and sing with more ease and freedom than ever before.
I live in the feel. I meet my voice where it is each day…which is ever-changing. 
I release judgments and cherish the imperfections.
I truly believe that anyone that can talk can sing, and that it is not necessary to mouth peas and carrots.
I believe that it is our divine inheritance to lift our voices and share our song…
That our voices are both the map and the compass! And the destination is personal and unique for everyone.
[Tweet "Your voice is both the compass and the map!"]
Your Rejoice In Your Voice™ Assignment
Perhaps your voice is weighed down… or tied up… by criticism, fear, frustration, expectation, and perfectionism…
Will join me in a different approach to befriending your voice?
 – Get quiet
 – Look for that faint flicker of candlelight
 – Ask and listen
 – Go to your pain-point
 – Visit your vulnerability
 – Dig deep for the truth behind your fear
Whether you are a professional or a novice…
1. What are the judgments that you have surrounding your voice?
2. Write them down.
3. Ask yourself, who would you be without these beliefs?
4. Next to each judgment, rewrite it to represent your deepest desire… no apologies.
5. What would you whisper to yourself?
6. What love would you acknowledge?
7. What would you celebrate?
8. What journey would you take? 
You deserve to know your voice intimately; to make friends with the stranger.
Your voice is both the compass and the map!  
I would love to hear from you. Share with me what you think or feel in the comment section below.  
And feel free to share this post with a friend!
Happy travels!
xoxoxox
Tricia
P.S. Would you like to take voice lessons?
Email me today for your free 30-minute singing lesson and voice assessment in-studio or via skype – my email: triciapine@rejoiceinyourvoice.com
I look forward to hearing from you!