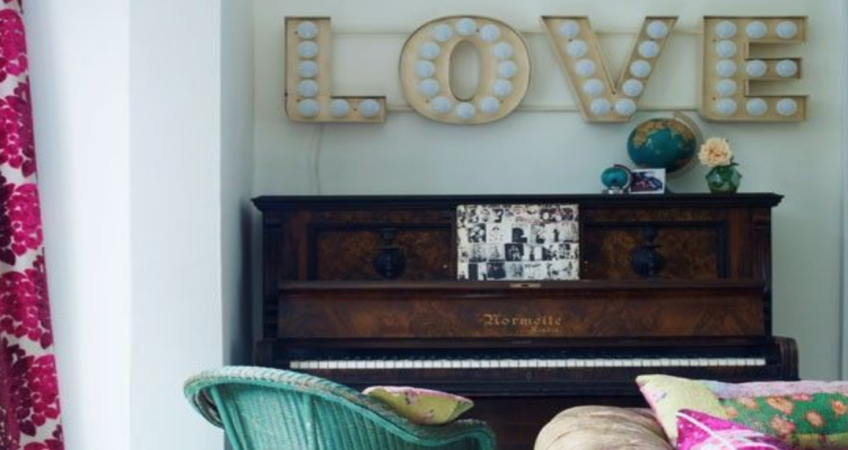 7 Steps To An Inspiring Singing Space
Create your Sacred Singing Space in 7 Inspiring Steps
The idea of vocal space, physical and environmental, is significant. Today let's observe our physical environment…
What if you had a designated spot to practice?
A place that when you were working, it gave you a deeper sense of purpose and passion?
As you took in your breath for the next musical phrase you also were able to "take in" supportive images, quotes, meaningful objects, soothing color, or fabrics that brought you joy, comfort, and inspiration?
How would that impact your practice time? Your creativity?
How would making a sacred singing space in your life improve the quality of your voice?
This week I am visiting my Mom in Oregon.  She is having heart surgery and thankfully I am able to be with her during this time.
Amidst the situation, I have been very aware of the shifts in personal space; airplane seats, stuffed baggage, Mother's hugs, doctors appointments, sharing laughter with with friends, family meals, guest bedrooms, playing my childhood piano, and busy hospital waiting rooms.
Despite the shift in environment and the intensity of the surgery, I brought pieces of my sacred singing space with me… my inspiration was my journal, quotes, goal card, my mediation practice, music to learn, and some fun projects to dabble in during the down times.
I have intentionally created space in my day for my passion and incorporated photos, images, and quotes into that space. I have found that this connection allows me to honor my purpose and in turn, I am better able to serve others. 
What does your practice space look like? How is it supporting you in your purpose?
How is it supporting your soul – your voice?
Want to create a supportive space for your passion?
Let's look at seven elements that kick-start your sacred singing space…
7-Steps to Creating your Sacred Singing Space
Step 1: Location
– Claim a room, wall, corner, shelf, flat space, or even a small shoebox, as your own – this will be the foundation for your inspiring singing space.
– Be a picky… if you can, choose a spot that will give you some privacy, fighting well used traffic areas may be counter-productive to your progress.
– Be aware of the visual triggers surrounding your space. You may not feel as free to play if your keyboard is parked right next to where you pay bills, or while you are warming-up you are viewing your dirty cat box.
– Take inventory of the options in your home and see if something else can be moved to provide space for your singing sanctuary.
– Any action that you take to make space for your passion, from a room to a shoebox, is nurturing you and what you love.
*My practice room is also my teaching studio. I feel very fortunate to have an entire room dedicated to what I love. It is truly my happy place, but this wasn't always the case. When I lived in college, in Europe and in New York, I created my sacred space with a journal. I kept quotes, images, goal cards, and supportive letters and cards tucked in between the pages of my journal. These intimate tokens created my traveling sacred singing space.
Step 2: Lighting
– Studies show that natural light can improve your mood. Why not pick a spot that will let the sun shine in?  (Hail the sunshine)
– A window not only adds light, but it may add a view as well. This visual connection to the natural elements may be an avenue of support and inspiration. I feel buoyed by a glimpse of blue sky, the whirl of a dragonfly, the stream of rainfall, or the dance of light snow-flurries. Even an industrial cityscape can stir the creative juices.
– Use varying elements of artificial light to create the mood you want in your space; bright light for playing the piano and reading music, or a softer more soothing light for bodywork and general warm-ups. 
* I have mix of natural and artificial light in my space. I have light sheers over the windows allowing a soft diffused natural light to filter into my workspace. I also have chosen two heirloom lamps to illuminate the space; my Grandma's brass floor lamp and a lamp that my parents received as a gift for their wedding.
Step 3: Color
– Choosing a color for your wall, shelf or box can be a fun way to infuse emotion into your space. Vibrant color may bring more energy, while a pastel paint may give you a calming or relaxed feeling. 
– Colors also have a emotional meaning. Check out the image below and  see what color or colors you are drawn to – either as a foundation or as an accent color
– Test out a few colors or just pick one you love. Color is an easy area to change… so if you ever feel bored with your choice, all you need is a new color and a paint brush.
* I chose to keep my walls a neutral color while giving focus to the images… although I am toying with adding a dynamic kick of red to one wall.
Step 4: Photos
Photos are an impactful way of truly personalizing your space. From black and white to color to classic photography to modern composition, add images that inspire your heart, mind, and soul. 
– Create a vision board from magazine photos
– Buy a second-hand store art book, cut out the images you love and frame them
– Find a blank canvas or watercolor paper and paint something
– Frame sheet music of a song you love
– Download an image from the internet and tack it on your wall or place it in your box
– Add cast photos and show posters and/or images of supportive family members
*For years, I collected my show posters, cast photos, and autographed images of singers that inspire me, but it wasn't until we moved from Alaska to Colorado that I was able to take off the bubble wrap, dust off the frames, and find a special home for my treasures.  These images have been the most transformative element of my studio.  The photos and posters give me a strong sense of family and connection to my artistic work. If ever there is a time that I am feeling overwhelmed by the creative tasks, a simple glimpse will fill me with joy and the love I have for my work.  
Step 5: Quotes
Sharing powerful words in a lyric fashion is our job. As singers, words can be a potent form of inspiration. Looking upon these words can connect you to your purpose and lift you up in a time of need.
– Do a quick search on google or pinterest and get ready to right click and download those quotes that you resonate with.
– Gather some of your favorites on your desktop
– Create a document of your images and use it as a music binder insert
– Print out an image or two and place it/them in a frame
– Jot down a quote or a song lyric and create your own 'framable' image
I found this easy quote maker at http://behappy.me/generator or you can use photoshop or good old-fashioned Word to create a quote of your own
*I created two binder cover inserts for my music folder that are loaded with meaningful quotes and images. It is with me in the studio, but also comes with me when I go on an audition.  I have other quotes framed and in my space. I like to keep a couple in the studio and the others in storage and swap them out whenever I want a change.
Step 6: Objects
From good luck charms to opening night gifts to meaningful trinkets… the objects in your sacred singing space can remind you of thoughtful memories and conjure strong positive emotions.
– What objects, sacred or secular, do you have in your collection that could you pull into your space?
– Perhaps there a something that you could buy or make that would be an inspiration or symbol of your creative purpose.    
* I have a painting from a street artist from Salzburg, my Miss America crown, a clock my son made in wood-shop, an heirloom book of "A Man Thinketh," and a mini medieval castle that I've had since high school.
Step 7: Natural and Living Elements
Adding elements from nature can also provide inspiration, comfort and connection. Pull in some pieces that represent your favorite aspects of natural world. Play with mixed textures and colors. 
– Branches, twigs, wood frames or wood furniture pieces
– Shell, coral, and starfish
– Natural fibers in the form of window coverings, accent pillows, throw rugs, silk art
(alpaca, camel, abaca, angora, cashmere, coir, cotton, flax, hemp, jute, mohair, ramie, silk, sisal, wool)
http://www.naturalfibres2009.org/en/fibres/
– Rocks
– Wax or Soybean Candles
– Green plants
– Small water feature
– Bowl of real fruit
– Fresh flowers
*I have included in my studio shells and rocks that I found on the coast of Hoonah, Alaska, wax candles, my great grandma's wooden rocking chair, silk window coverings, and two very hardy plants.
Look for new ways to integrate inspiration into your singing space. Honor your voice by creating a sacred area to practice, study, and create. Discover a fun way to infuse your space with your soul's focus and your life's passion.
You deserve to have room in your life for what you love. From color to natural elements, at home or on the road – you choose… and always rejoice in your voice™!
Question? I would love to hear form you… talk to me in the comment section below…
How have you infused your work space with elements that inspire you? 
Which of the 7 steps do you want to try?
(As I am in Oregon, I don't have access to a photo of my studio. When I return to Colorado next week, I'll add it to this post and on my facebook page…. and I would love to see your space as well. Post a photo of your creative space on my Rejoice In Your Voice™ facebook page… we can inspire each other!)
Happy singing!
xoxoxox
Tricia
P.S. Would you like to take voice lessons?
Email me today for your free 30-minute singing lesson and voice assessment in-studio or via skype – my email: triciapine@rejoiceinyourvoice.com
I look forward to hearing from you!