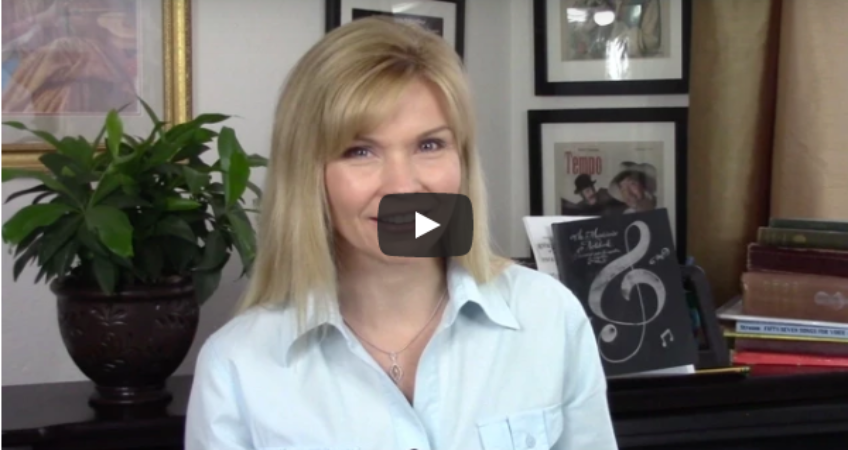 Voice Lessons: Part 1 Your Practice Time: Get A Better Strategy!
Are you getting the results you want from your voice?
Are you being strategic with your practice time?
Practice is necessary in our craft, and a few shifts in your approach may take you to the next level. 
The Plan
Over the next 7-weeks, we are diving into the topic of the practice.
Geoff Colvin wrote an inspiring book called Talent Is Overrated.
In it, he gives valuable data and insight on the benefits of "deliberate practice" for achieving professional results. 
As your voice teacher, I want to get you to a level of mastery that is right for you.
No matter where you are in your vocal journey – novice to professional – you will benefit from this conversation. 
From your presentations to speeches or performances… join me as we make important shifts to our practice time.
My Issues With Practicing
I have a confession to make… I hate practicing.
There are three things that start to happen to me when I begin to practice. Perhaps you can relate to them…
First of all… the idea of what I want my voice to sound like and what comes out of my face are two different things. I immediately get disappointed.
Secondly, I have huge vocal tool-box, and the choice of what strategy to use to make an improvement starts to overwhelm me. I shut down.
Thirdly, I like to feel good, and facing the intimate truth that I must improve bugs me. I don't like to feel bad about myself, my voice, my intellect, my resources… my whatever – I don't want to go there.
To cope, I may dive into a song I know and love – lose myself in the familiarity of the melody and words. Or I might run through habitual exercises while thinking about today's to-do list. Or, maybe, I will test my memory of a piece for an upcoming performance.  
If at that point I choose to stop, I am being very human – I am avoiding the pain. We do it all the time. And technically, I could say, "I practiced."
But, if I choose to go deeper … and start over again with thoughtfulness and intention, the results are always worth it.
7-Week Practice Overhaul
Over the next 7-weeks goal is to do two things:
1. Refine the time already spent in the practice room and, for some of us…
2. Increase the amount of strategic practice time
I want to get you to show up – and to show-up in an authentic way.
Topics We Will Cover
Inspired by  Colvin's Talent Is Overrated, here are the strategic practice topics we will cover: 
– Performance
– Guidance
– Repetition 
– Results 
– Mindfulness 
– Attitude 
Let's do this together. Show up each week and let's see what surprising shifts happen in the 7-weeks…
This Week's Homework
Keep a practice log.
It may sound elementary or too structured for some of you… but do it anyway. (Yes, I am a bossy voice teacher.) 
This will be the an important awareness piece as we go into the following teachings…  
Also, observe your mindset as you keep track, how we do anything is how we do everything – notice resistance, distraction, padding the books a bit, shaming, blaming…  
And, I am going to do it right along with you.
If you need help tracking your time… there are all sorts of free practice log and time tracker apps.
I am using toggl on my phone – not because I love it, but because I use it already for some of my business and personal time tracking.
I am off to practice… timer has started…
Until next week, always Rejoice In Your Voice™! (and do your homework)
xoxoxox, Tricia