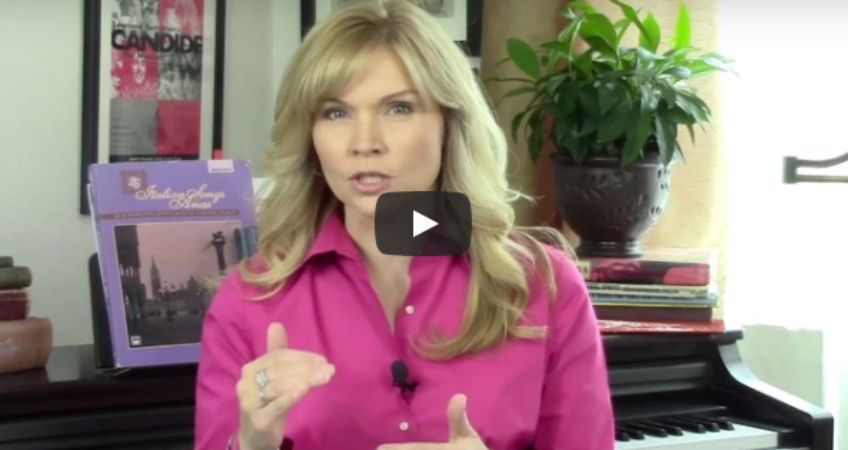 Voice Lessons: Part 2 "Deliberate Practice" – Design a Plan
For the next six weeks,we are diving into the six elements of "deliberate practice" as shared in Geoff Colvin's book – Talent is Overrated.
Our Homework
Last week, our homework was to track our practice time. How did you do? 
My actual practice time was much less than I thought it was going to be… I averaged about 30-minutes a day. And, I struggled to stay focused…
I am so easily distracted :/ 
What about you? How much time did you spend practicing? What did you find was your greatest challenge?
This Week's Lesson
The first element of deliberate practice is…
"It is designed to specifically improve performance."
You may be saying, "Of course, Tricia, we show-up to improve our performance!"  
But, this is an important element of what separates the hobbyist from the professionals  – those struggling to meet their goal and those hitting the mark more consistently.
Research shows that mental demands surpass physical demands in peak performers – even in athletes. Deliberate practice is mentally intense, exhausting and not exactly fun.
You must design your practice time to stretch you beyond your current ability.
So how do we do that? Let's make a plan…
This Week's Homework
            Step 1. Know where you want to go
            Step 2. List all the areas that you wish to improve to reach that end result
            Step 3. This week pick one area from that list that you wish to improve
            Step 4. Design immediate steps to help you in this area
This last step… "designing the immediate steps" may be where you get stuck…
Three Concepts To Help Design Your Plan
Before the work:
Once you have your big picture in place, focus on chunking down the process.
Colvin writes, "..the best performers make the most specific, technique-oriented plans. They are thinking of exactly, not vaguely, how to get where they are going."
In addition to focusing on technique, deliberate practice doesn't always have to be you singing or speaking – it could be researching the topic, finding examples, watching videos… deepening your knowledge base and awareness around your specific area of focus. Include these things in your immediate steps, as well.
During the work:
Develop the skill of self-observation or what some researchers call meta cognition.
Take the bird's-eye view while you are practicing and notice what is working and what isn't.         
According to Colvin, "Top performers do this much more systematically than others do; it is an established part of their routine."
After the work:
Let's look at the difference between average performers and excellent performers…
What if your practice or performance experience wasn't perfect?
And it is not going to be…
"Average performers respond by avoiding those situations in the future…. Excellent performers respond by adapting the way they act."
"Average performers believe that their errors were caused by factors outside their control… top performers by contrast believe they are responsible for their errors."
Average performers and excellent performers judge themselves differently.
"Average performers are okay with saying it was great, poor, or okay – where as excellent performers judge themselves against the standard as to what they want to achieve."
NOTE: Don't set the standard so high you can't reach it and feel disappointed, but also don't set it so low that you are not stretched….
An Important Key
Because top performers have specific and designed plans they can go back to elements to see what may be tweaked or altered or refined to better reach their goal next time.
Have fun with this and let me know how it goes!
Next week, I will share the second element of deliberate practice, and I'll let you know what immediate steps I designed and how it went.
Until then, always Rejoice In Your Voice™!  
xoxoxo, Tricia