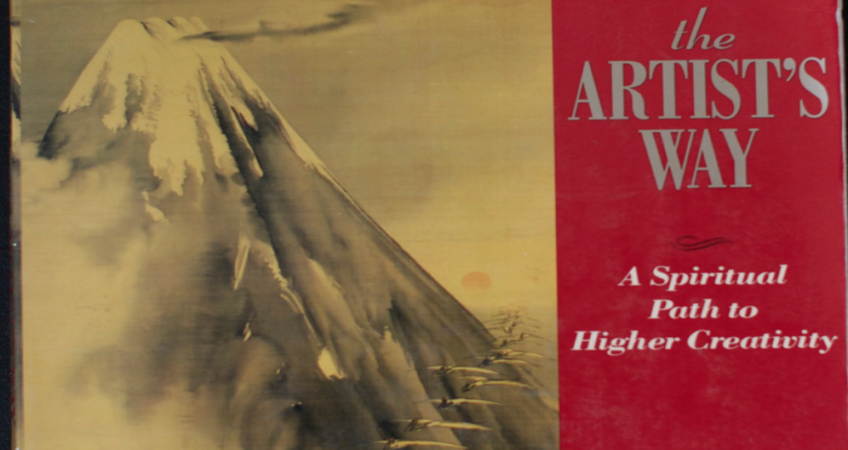 Singing Lessons: Finding Your Artist's Way – Warm-Up Series Part 3
Click above video to hear my intro to this amazing mind warm-up! 
As a singer, we are our instrument, and like athletes, we need great warm-ups…
It is for this reason that I am sharing with you a series of warm-ups to help you perform your best. In alignment with my Complete Singer System™, I share with you not only warm-ups for your voice, but for your body and mind.
Learning to sing is understanding how to use your physiology and psychology to meet your goal. The mind-set you bring to your craft will impact your creative journey and your ability to impact audiences. Taking time to "pre-pave" your road to success by nurturing a healthy mind-set is a worthy investment.
Over the last two weeks, I've shared with you two full body warm-ups that incorporate breath. Today, I am sharing with you a mind-warm-up  – a tool that cuts through the brain gunk to let your heart's song be heard.
It's cheap, easy, and unique to you… you need pen, paper, and 20 minutes.
How did I come across this practice?
I found my Artist's Way on 66th and Broadway
It was 1997. I had just moved to Manhattan, ready to audition and attend grad school. As my feet took to the sidewalks, I fell in love with the Big Apple one block at a time. I loved exploring all the "provinces" of the city. I frequented Lincoln Center, Times Square, the Metropolitan Museum of Art, the Guggenheim, and the New York Library, but my favorite hang out was the Barnes and Noble on Broadway and 66th. 
This four-story beauty of a bookstore was across the street from Lincoln Center and appropriately carried a heavy inventory of performing arts literature. The artwork throughout the store was images of operas and Broadway shows. Rows and rows of shelves were dedicated to books about monologues, art, how-to, film, theater, acting, dance, television, commercial, singing, performing, musicals, and operas. Many stage celebrities would do book signings in a little corner on the top floor, in fact that is where I met Joan Sutherland and she signed her biography for me.  At least twice a week, I would push through the revolving door, glide up the escalator, nod to the La Rondine poster, while humming a few measures from Magda's aria. Then I'd take a few steps and let my fingers brush the covers of books showcasing Martha Graham, Fosse, or Pavarotti and slowly wind my way on green carpet to my favorite sections. There I would sit on the floor cross-legged for hours; reading, scanning, gazing, and fanning through book after book after book. And one day, one book in particular called to me and there began a path to deeper creative awareness…
Warm-up Series Part 3: The Artist Way – "Morning Pages"
The Artist Way, by Julia Cameron, is a powerful book that gives you practical tools to reveal and support your creativity for a lifetime. It is now in its 10th edition and continues to help creatives across the globe. It changed my life 17 years ago, I know it will guide you as well.
Julia's "Morning Pages" exercise is one that I use to this day, and the process has been a great comforter, teacher, confidante, and problem solver. All you need is a pen, notebook, and 20-30 minutes of your morning. The benefits are priceless – you will gain clarity, awareness, insight, focus, compassion, and focus.
"In order to retrieve your creativity, you need to find it." I ask you to do this by the apparently pointless process I call the morning pages. You will do the pages daily through all the weeks of the course and, I hope, much longer. I have been doing them fro a decade now. I have students who have worked with them nearly that long and who would no more abandon them than breathing. " ~ Julia Cameron
What you need:
1.         An 8 x11 notebook, yellow pad, or sketch pad.
            I use a sketch pad, and I like to orient the paper to write horizontally.
2.         A Writing Utensil
            I have a special stash of colored writing pens just for my "Morning Pages,"
            and I let my mood choose the color.
What to do:
1.         Arise in the morning 30-minutes earlier than you usually do
2.         Find a comfortable place in your home that you won't be distracted
3.         Sit and write three pages
* Important Reminder About Step #3
Have your writing be free-flow writing. Don't let the pen stop. Whatever you are thinking goes on the paper. No editing, no pausing… just start at the top of the paper and go until three pages are full.
You will get to the point in your writing when you think there is no more to write, but that is where you must push through… that is when the brain dump is done and your heart's desire will take over.
4.         Put the notebook away in a special place
5.         Repeat steps 1-4 every morning
The Results:
This process has helped me work through voice challenges, deliver a better audition, clear my head of limiting beliefs, work through an personal argument, nail down blocking for a performance, finish a poem, reveal a new project to work on, reminded me of purpose, brainstorm fun things to do with my family, make important decisions, or compose a tearful prayer.  This process positively shifts the energy of my day and aligns me with what is most important to me. Every time.
As a singer, actor, or speaker, you are your instrument – taking time to warm-up your body, mind and voice will greatly enhance your creative journey. Use Julia Cameron's "The Artist's Way" Morning Pages to warm-up your mind… helping you stay true to your unique heart's song.
Click here to view The Artist's Way on Amazon
Comment below and let me know how this exercise works for you.  
Share this post with the creatives in your life – they will thank you 🙂 
Happy Singing!
Always Rejoice In Your Voice™!
xoxoxo Tricia