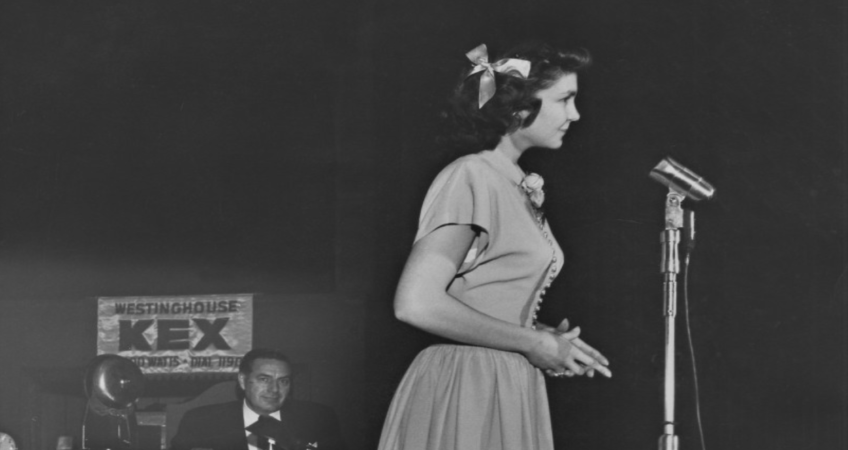 Who Inspired Your Passion? An Interview with my "Drama Mama"
Who planted the seed for your passion?
Before heading into 2014, I took some time to reflect on the beginning of my love for music. Where did it all start? All spotlights point to my sweet "drama mama."
The Drama Mama
Mom has a bigger than life personality, is fearless in crowds, and never hesitates to sing a high C at any given moment… we won't even go into her soprano "who-hooo" that beckons her children and grandchildren over isles and rounders in every public grocery or clothing store. Growing up, music filled our home. Melodies played on thick latex records introduced me to Robert Goulet, Beverly Sills, and Yuma Sumac. We enjoyed family outings to symphony concerts and ballet in the park. Dad, Mom, and I would often gather round the piano and sing hymns in 3-part harmony and, on our frequent road-trips, Spirituals and folk songs made the miles pass with ease. A fond music memory includes listening to Mom sing  Summertime and Lord's Prayer for civic events. "Summertime, and the living is easy!"
Mom introduced me to music. She nurtured my voice and created the opportunities and the environment to take my passion from a hobby to a profession. But when I discovered a box of old photos and uncovered an image of my Mom taken for the Playbill of a musical, I realized there was still much I did not know about her music career. What was her singing philosophy? What did she love about performing? Did she have regrets? And what advice would she give me now?
These questions led me to invite Mom to the dining-room table, and in between writing a pen-order for a customer and discussing with her friend the date of the next opera guild meeting, my 84 year-old mother shared her passion for music. 
The Joy
"Relax and have fun!" she said, raising her signature eyebrows and flashing her eyes at me. Her singing philosophy was simple, "Enjoy yourself. That is what I did and what I encouraged my students to do as well." It was this fun-loving attitude that carried her from show to show through high school, college, and adulthood. Our leading lady's goal was to share her voice and bring happiness to others. "Yes, singing is about having fun and sharing your God-given talents, of course. Making other people smile. I love every minute of singing."
Lenore began studying piano in the fourth grade, accompanied her mother to local symphony and community concerts, and listened to the Metropolitan Opera live radio broadcast every Saturday while she busied herself with her household chores.  "Music is just a part of me, always has been. I adore those high notes….couldn't imagine life without music." she said. In the seventh grade, she started taking voice lessons from Mrs.Ellis, a teacher that emphasized learning art songs and arias, and performing. "Very little lesson time was given to explanation of vocal technique. By the time I was in high school, I had an extensive vocal repertoire and sang all over Portland for banquets, instillations, meetings, radio shows, and award celebrations. I performed all the wonderful soprano arias; Quando me'n vo, Il bacio, Un bel di. Mother made all my gowns for each gala, show, and dance. Mother even made the dress I wore when I sang on the national radio show for Ted Mack. They were beautiful."
Lenore attended an all-girl's Catholic high school, Holy Child. There she captured the lead in all the productions. From melodrama to Gilbert and Sullivan to Operetta to light Opera, Lenore was the heroine, ingénue, and leading lady. In her senior year, she and her and classmates decided to write their own melodrama and take it on tour. "It was a great success in the area…we had a glorious time creating that production." Acting out the parts of the villain and the heroine she bellowed, "You must pay the rent…I won't pay the rent!"
The Father's "No"
The summer after high school graduation Lenore was asked by two different directors to join their touring opera company. The first round of disappointment was delivered when her father, while proud of her singing and performing, flatly said "no." "Daddy believed a girl needed to have good education. I don't remember any tears or being angry. In the Fall, I attended Marlyhurst for a semester and then two of my friends and I transferred to Louis ad Clark College. They had a better music program." It was understood that if Mom wanted to join an opera company, it would be after receiving her education.
The Hurt
It was at Louis and Clark that Lenore felt the first pangs of religious racism. Neither the Presbyterian college choir director nor drama instructor ever cast Lenore in any of the plays, musicals, or operas. Her music activity was confined to the general chorus, and even there the solos were always given to others. "I was aware of it, but it never bothered me. I found places to perform outside of college and my goal was to finish school in three years." Taking a heavy course-load and summer classes, Mom met her goal and graduated with top grades from Lewis and Clark in three years.
The Marriage
Lenore met my father, Hank Leines (who also graduated in three years), at Lewis and Clark, and the two were married after graduation. "Hank was very supportive of my singing. He would work two jobs and still take care of the children when I had rehearsals and performances. I was very lucky." Life after college was very busy for Mom. "I never remember auditioning for anything… but I was performing all the time… Magnolia in Showboat, Mitzi in Blossom Time, Yum-Yum in The Mikado… Despina in Cosi Fan Tutte. Never got paid for it, but lots of sold out performances in downtown Portland. Those were fun memories."
The Family
Balancing a new marriage, caring for five children all under the age seven, and the pressures of performing long-running shows must have been challenging for this young singer. "I just did it. Hank helped me tremendously. I worked hard and I learned to bake a lot of casseroles." She laughed.  I asked if she ever was nervous when performing. "Yes, of course, I was very nervous when I performed. I took the productions very seriously and felt a huge responsibility to not let anyone down. Cast members would chat and take nips from their flasks…I would never talk to anyone, as far as drinking? Never!"
The New Home
When Dad's work transferred him to Medford, Mom and their five children left their Portland home and traveled down I-5 to the Rogue Valley, their new home. Any person, especially an artist, knows how challenging it can be to relocate to a new town. After years of being the go-to-gal for every production, to be an unknown in new town must have felt strange. But dwelling on obstacles was not Mom's style, and while no roles were added to her resume during these years, she left quite an extensive legacy the Southern Oregon political and culture scene.
Mom joined the Medford Republican Women's chapter, volunteered for Tutor Guild at the Oregon Shakespeare Festival, was a board member Rogue Valley Symphony, worked alongside the founder of the Rogue Opera, and was a founding member of the Britt Music Festival in historic Jacksonville. She worked as an organist and soloist for funerals and weddings, started teaching voice and, as her network grew, she was asked to sing for more banquets and award ceremonies. She performed for President Ford and President Reagan during their visits to Oregon.
The Regret
But soon after I was born she stopped singing. "Why?" I asked.  She answered, "I was older, gained weight. I let my vanity get in the way of my soloist work. Plus, I was no longer the age to play the ingénue. What would I sing? Can't really sing 'I feel pretty' when you don't." She shrugged. "So, I decided to dedicate myself entirely to sales and volunteer work." The transition to a mature soprano is not an easy one. Many soubrettes and coloratura sopranos lose their identity when their age and voice type makes it harder for them to be cast as the blushing leading lady. Mom did what she always had done, relaxed, had fun, and focused on new audiences to help.  
The Baby
In 1972, while Mom was working, volunteering, and raising five children ages 12 -18, I was born. I am positive I was not planned, but Mom never referred to me as a mistake or an accident… rather endearingly called me her "bonus" – kind of like extra nuts on an ice cream sundae or the prize in a happy meal.  And my bonus birth story goes something like this… "Your father dropped me off at the emergency room door… and you were born before he could park the car." This pace was indicative of my mother's life and, even with a new-born in tow, she never slowed down.  It is only now in her 80's that her tempo has gone from allegro to largo. And it is only now, as I edge to my 42nd birthday, that I am beginning to see her hopes, dreams, and sacrifices with a new backdrop.
Gazing again at her Blossom Time photo, I am transported to that moment in time. Seeing and hearing her beautiful soprano voice singing "Song of Love," holding the hand of her leading man as they glided across the stage in heavy make-up and her petite costume. I feel the warmth of the spotlight on her face and the comfort of the orchestra below her. I sense her joy as she received applause and after-show hugs. This young singer, my mother… what a journey it must have been with music accompanying her every step.
The phone rings and she rushes to answer, engaging in another conversation this time as the Providence Hospital Guild Bake-Sale coordinator. She laughs and speaks well wishes to the person on the other end while opening her brimming 2013 calendar book.
Mom has played many roles in her life… some more glamorous than others. Today, she fills her days working as a salesperson and volunteer, enjoying time as mother, Grandmother to 22, and great grandmother to 25…. the newest addition; Lilianne, born two days ago in Montana. Mom still supports many arts organizations and is always on the lookout to recruit a new Republican. Last month, Mom sang the Lord's Prayer for a friend's funeral. A beautiful testament of how she continues to share the music she has always loved while bringing happiness to others.
Mom's advice to me?
"Always keep performing, and practice… everyday! And… relax and have fun." She winks.  
Thanks, Mom. I will.
So, I am curious…. who inspired your passion?
And what do you remember most about them? 
Share this with your friends and talk about  the roots of your passion 🙂 
Have a beautiful day and always Rejoice In Your Voice™!
Love ~ Tricia xoxoxox