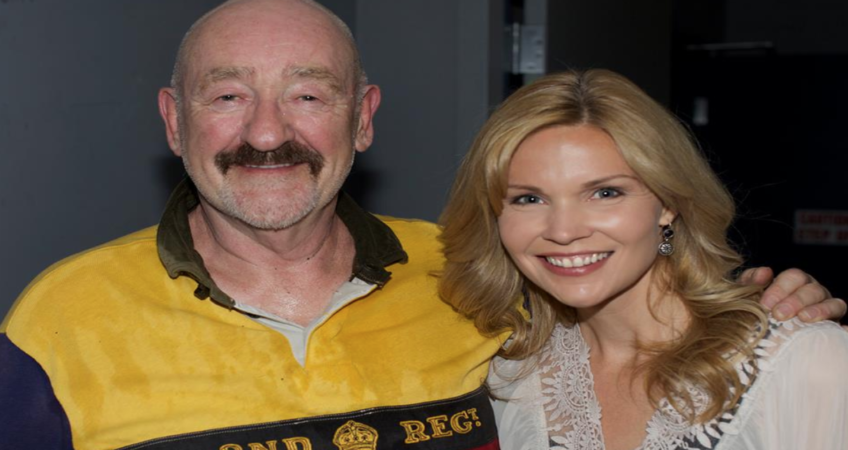 Awesome Speak-Singing Exercise Inspired by Rock & Roll Hall of Famer Dave Mason
Imagine being 68 years-old and singing and playing music you love to sold out crowds across the globe… this is the life of Dave Mason, Hall of Fame inductee and singer/ songwriter/ guitarist of the 60's-band Traffic. This week, I was lucky enough to see his Denver concert and meet him back-stage. I am a new fan. I wanna sing like Dave. 
Age has given Dave a bit of a paunch. He wears stylish reading glasses and makes jokes about his memory, but despite his age, there is a timelessness to his performance; a type of exchange that happens between audience and performer when a soul is truly sharing its passion.
While I had done my Dave Mason youtube and Wikipedia research, I wasn't sure what to expect from him vocally.
He sounded great!
What impressed me the most about Dave was the youthful quality of his voice. There was no vibrato wobble, frailty, gravely effect at the start or end of phrases, or lack of clarity.
From high to low, each note sounded as it did 40 years ago; purposeful, clear, and tension free… and this after being on the road for months.
If you are like me, I want sing well for my entire life – I want be 80-years-old and still have great high notes. So, as I enjoyed Dave's concert, I mentally took note of six singing techniques that Dave Mason did to ensure his vocal longevity…
1. Relaxed Jaw – His jaw was in the down and back position. The telltale double chins were present and working to his advantage.
2. Neutral Neck – As he sang the high pitches, he never strained his neck upward for a note.
3. Efficient Articulation – He used his tongue and lips effectively for consonants. The mouth space was minimal. He did not over-do the articulation for emotional effect, rather allowed the core of the tone to carry the meaning.
4. Forward Placement – the words spun from the upper part of his mouth, the oral cavity was active and balanced.
5. Low Larynx – I never sensed that he created sound from pressure on his larynx, and I never saw the larynx rise as he sang high notes.
6. Speak Singing – His melodies were clear and easily sung, with no affect or complication. When he spoke to the crowd and then sang, his speaking voice and singing voice were aligned – both coming from the core of his body. Both speaking voice and singing voice were open and free, clear and purposeful, relaxed and grounded.
Your Rejoice In Your Voice™ Assignment 
Let's Apply the "Speak Singing" Technique To Your Work
Click the above video to watch step-by-step video demo and learn how  to use your speaking voice to help you sing better…
*These steps were inspired by Stanford Felix , my dear friend, wonderful voice teacher, and Executive Director of the Minnesota Concert Opera. 
[Tweet "Use elements of your natural speaking voice to help you sing with ease."]

NOTE: Two things I like to do when integrating this series of steps in my own work:
            – allow for a lifted soft palate
            – allow for a low, relaxed larynx
Step 1. SPEAK IT
– Choose a phrase of music that you are working on.
– Say it in your normal speaking voice as if you are telling a friend or family member. 
– Play with different inflections to create an authentic delivery.
NOTE: You may already have singing muscle memory around this lyric phrase. Try this:
– Alternate saying the lyric phrase with a conversational phrase that is common-place to you, "I am running to the store." or "Andrew, is your homework done?"
– Allow the lyric phrase to stay in the same natural resonance as the conversational phrase.
NOTE: There may be a specific word that is challenging you. Try this:
– Isolate the word.
– Identify if it is the consonant or the vowel placement that is creating the challenge.
– If it is the consonant, try lessening the "attack" of the consonant.
– If it is the vowel, try modifying the vowel or play with saying the word to a person in the next room.
–  QUESTION: What does the added support and/or space do to the placement? I have found with my students these actions will demonstrate a focused placement for the word.
Step 2: ADD PITCH
– Choose a pitch that represents your speaking pitch.
– Say your lyric phrase, or word, on this one note.
– Now work your way up the keyboard note-by-note saying the phrase, go as high as feels comfortable.
Step 3: ADD SUSTAINED PITCH
– Speak the lyric phrase again, this time sustaining the vowel a bit longer, paying close attention to allowing the speaking resonance to remain the same as on the sustained tone. 
– Now work your way up the keyboard saying your phrase or word with sustaining vowels.
Step 4: ADD VARIED SUSTAINED PITCHES
– Play with different inflections of the phrase and sustain the vowels on these inflected pitches.
Step 5: PUT WORDS AND MELODY TOGETHER
– Sing your phrase filtering the words through the resonant speaking placement of the above exercises.
– Remember to allow for a lifted soft palate and a low, relaxed larynx.
Go try it for yourself and have fun! 
Sharing the evening with Dave Mason and his band was truly inspiring.
At 16-years-old he followed his passion, worked hard, stayed true to his calling, greatly impacted the music industry, had a dynamic career, and 50 years later he is still doing what he loves and doing it well.
Thank you, Dave! And may your world-tour be a huge success!
Thank you to my dear friends who made the evening possible! 
Let me know how the exercise goes in the comment section below and share this post with a singer friend!
Happy singing!
xoxoxox
Tricia
P.S. Would you like to take voice lessons?
Email me today for your free 30-minute singing lesson and voice assessment in-studio or via skype – my email: triciapine@rejoiceinyourvoice.com
I look forward to hearing from you!